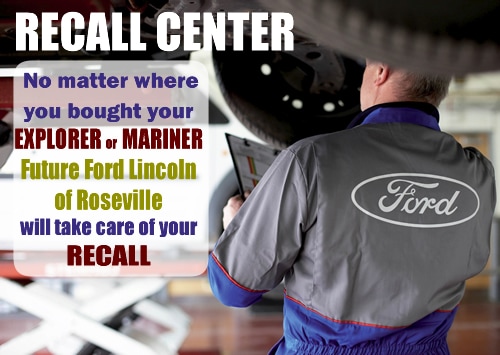 Future Ford Lincoln of Roseville is your Ford Escape, Mercury Mariner and Ford Explorer Recall Headquarters.  If you own a 2008 to 2011 Ford Escape or Mercury Mariner or 2011 -2013 Ford Explorer, contact Future Ford Lincoln Recall Center immediately, there is a recall on your vehicle. Even if you bought your vehicle at Folsom Lake Ford, Downtown Ford, Elk Grove Ford, Fairfield Ford, or any other Ford dealer, Future Ford Lincoln of Roseville in the Roseville Auto Mall just off Highway 80 in Roseville is the place to go for all recall service. 
2008-2011 Ford Escapes and the 2008-2011 Mercury Mariners have a problem with a torque sensor within the steering column causing loss of power assisted steering. 
2011-2013 Ford Explorers may have an electrical problem in a steering gear. 
 Other recalls have been issued for:
2010-2014 Ford Taurus rust around the license plate light
 2006-2011 Ford Fusions, Mercury Milans, Lincoln Zephyr and Lincoln MKZ to check for properly installed floor mats
 Please contact Future Ford Lincoln of Roseville to schedule your recall work and have a complete Health Check on your vehicle.